Deposit Money Banks (DMBs) in Nigeria have introduced charges on the use of USSD (Unstructured Supplementary Service Data) code for banking services.
According to the text message received by several bank users today, starting from tomorrow, October 21, every usage of USSD code for banking services now attracts N4 per 20 seconds.
The messages received across board by MTN users read:
"Yello, as requested by your bank, from Oct 21, we will start charging you directly for USSD access to banking services. Please contact your bank for more info.
"Yello, Please note that from Oct 21, we will charge N4 per 20 seconds for USSD access to banking services. Thank you"
How this affects you: USSD code is a Global System for Mobile (GSM) communication technology that is used to send text between a mobile phone and an application program in the network.
The USSD is simply a code that you enter on your phone to enable you enjoy certain banking services. These are services that could have otherwise taken you to the banking hall, the ATM, or an Internet-connected desktop, laptop, iPad or smartphone for Internet banking.
Basically, by simply entering a USSD code (designated by your bank) on your mobile that is not even connected to the Internet, you can enjoy several banking services that otherwise may have necessitated you going to the banking hall, an ATM or an Internet-connected computer.
With the new charge imposed, it means the service is no longer free and a user will now pay N4 per 20 seconds used.
Meanwhile, users who may want to avoid this charge will need to download the banks' application for transaction.
But Nigerians are not having it. Following the announcement, Nigerians have expressed disappointment at the development, describing it as too much burden for the people to bear and may further worsen the financial inclusion state of the Nigerian people.
According to a twitter user, Alex Oluwatobi, this is not democracy but "Exploitocracy".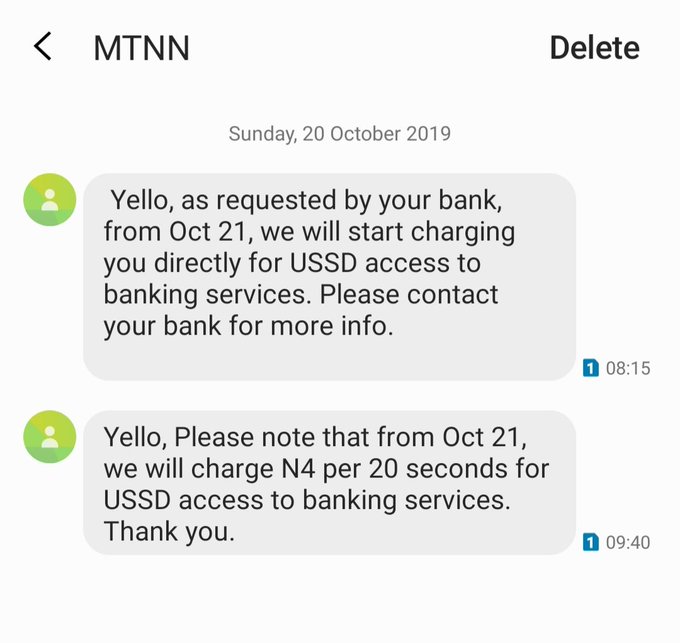 Another twitter user lamented that all the polices from VAT increase, charges on deposit and withdrawals, payment on renewal of National ID and others come so quickly.